Ekrem was born in 1937 in Banja Luka, Bosnia. He was one of 11 children in the family (only 4 of them survived the WWII). At the age 5 he barely avoided being killed by a Croatian Fascist soldier "Ustasa" (an experience which forever gave him a small, barely visible scar on the neck).
At 14, he left his family home and went to Sarajevo to attend classes at the High School of Applied Arts. Then he spent several years in Belgrade, working in studios of from some of the best, popular Yugoslavian artists and painters (including V. Dimitrijevic, I. Mujezinovic, Dj. A. Kun). In 1960 he goes to Paris to work at prof. Lotta's studio. Around that time he met Salvador Dali, who's influence often surfaced in Cizmic's artwork.
His personal life was a long lasting adventure. It's interesting that he dated a popular French novlist and screenwriter Francoise Sagan ("Howdy Sadness"), as well as a daughter of one Sicilian mobster. He had 5 marriages and 2 children (sons Edin and Haris). His passion for drinking sent him to rehab in 1989, and was a recurring bad habbit.  He fought alcohol, but that battle was never won entirely.
Ekrem was a prominent member of the Fine Arts Community of Bosnia and Herzegovina (which was then a part of Yugoslavia). His long career includes many exhibitions, hundreds of magazine articles, TV interviews and documentaries. He occasionally illustrated for newspapers & books, he also painted large murals and had many international awards and achievements.
Ekrem traveled all over, attending (and exhibiting) at art shows, tutoring in art colonies, and also  touring with many folk dance groups from Russia to Algeria, from London to Paris. as a highly respected choreographer. Between mid-1970's and late 1980's, Ekrem worked as a Propaganda Chief  (Head of Advertising Department) for Sarajevo's National Theater. He did stage design, as well as advertising design (posters, articles, covers, etc). But his real passion was always painting.
In 1992, at the beginning of Bosnian War (92-95), his whole exhibition burned down after being hit by a Serbian mortar shell. Later same year, he opened another exhibition, the very first one held in (then a war thorn) country, which marked the beginning of the new Bosnian Creative Anti-War Movement. During the war, Ekrem held a rank of Captain CPT, but he retired and spent most of the war as a civilian, painting and struggling with the rest of Sarajevo. During that time he suffered a heart attack while doing his daily 3 hour long walk from his apartment to downtown. He somehow walked himself to the hospital, where he spent a week in the intensive care.
left: Ekrem sometimes drew elaborate sketches before painting large format canvases. This is just one of his ink sketches that lived to become a large oil on canvas painting.
Many of those sketches became art pieces themselves, today hanging framed on walls of people everywhere.
left: His murals and wall paintings were usually sketched like this, then methodically painted using thick brushes and flat colors.
Sketch shown here ended up to be a wall painted mural in a restaurant in Gruda (Croatia).
He did many similar murals, all over ex YU – either as direct wall paintings, or as wooden blocks, painted and assembled.
In 1996 Ekrem released a very limited, luxurious set of 12 surreal graphics featuring old Bosnian mosques destroyed by war, drawn between 1993-1996. Just as his previously released sets of graphics (featuring mostly his emotional surreal scenes of a small Croatian seaside village called Molunat), this set was also silk-printed on a heavy stock luxurious paper, hand numbered and signed, packed in a large, silk printed cover sleeve. The set was very well received and distributed in it's original form, as well as a 15 page full color calendar (designed by Ekrem's son Haris, also a creative artist). Members of Bosnian Government would (among others) purchase those exotic graphic sets as gifts for foreign politicians, business investors, bankers.
During the 2000's, Ekrem visited the U.S. twice, where he exhibited in Detroit and Hamtramck, MI. His USA exhibitions were welcomed and featured in local media. He was more creative than ever before, averaging few paintings every week. In the winter of 2005 he slip on ice and broke a hip (from which he never completely recovered). His health kept deteriorating and he passed away (from a prostate cancer) in 2009, in Sarajevo, Bosnia, where his final resting place is.
It's unfortunate that many of his paintings are either destroyed or missing, many privately owned pieces are kept in homes or permanently exhibited in galleries worldwide (without the official trace), so we can't really collect his whole opus; but some remaining pieces (few dozen paintings, illustrations and graphics) are still being kept and shown at the gallery "Kicos" in Sarajevo (most are not for sale).
(left: A set of postcards with Ekrem's illustrated mosques was released in the late 1990's )
Ekrem was always very active in a folk dance scene of ex. Yugoslavia. He toured the world dancing and later teaching teams and clubs about traditional YU folk dances. Later, he combined different influences, rhythms, movement and sounds to create some of the most beautiful takes on old traditions that brought him many International awards, especially after designing a dance choreography performed on a large Sarajevo's Stadium during the annual 25-May Celebration. The whole thing was shown live on a Yugoslavian National TV).
He worked with almost all Folk Dance Clubs in Sarajevo, often traveling to remote cities and villages, spreading his work and teaching. A club in Belgrade, Serbia recently released a book on their history – featuring Ekrem as one of the most influential teachers. On many occasions we choreofraphed dances for TV and Film.
He would often travel carrying his portable cassette tape recorder, always listening, rewinding and using his famous Parker cartridges (and no pen to go with it) to write steps, movement patterns and rhythms in his little black notebook. He gained a tremendous success as a choreographer, and that would sometimes collide with his painting career. Still, he was primarily a master artist, a creative painter filled with unique inspiration for his surreal worlds, a man who artistically grew changing styles and techniques, but who's artwork was easily recognized as remarkable, unusual and powerful.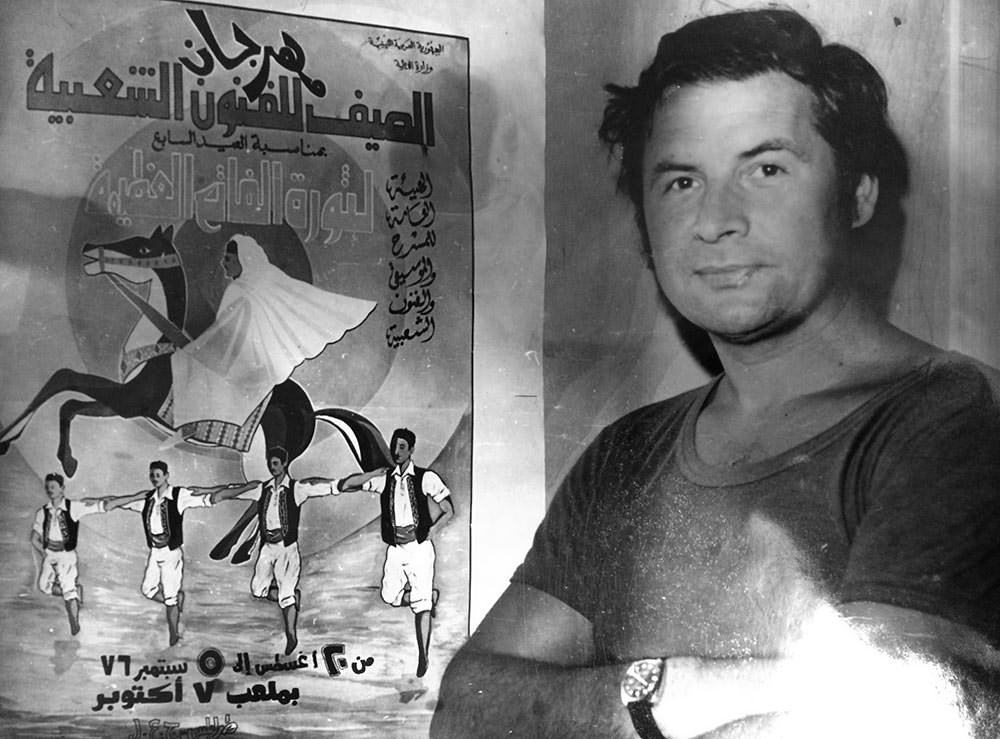 On one of his trips to Tunis. He performed traditional YU folk dances (with groups from all over ex. Yugoslavia) on many festivals worldwide.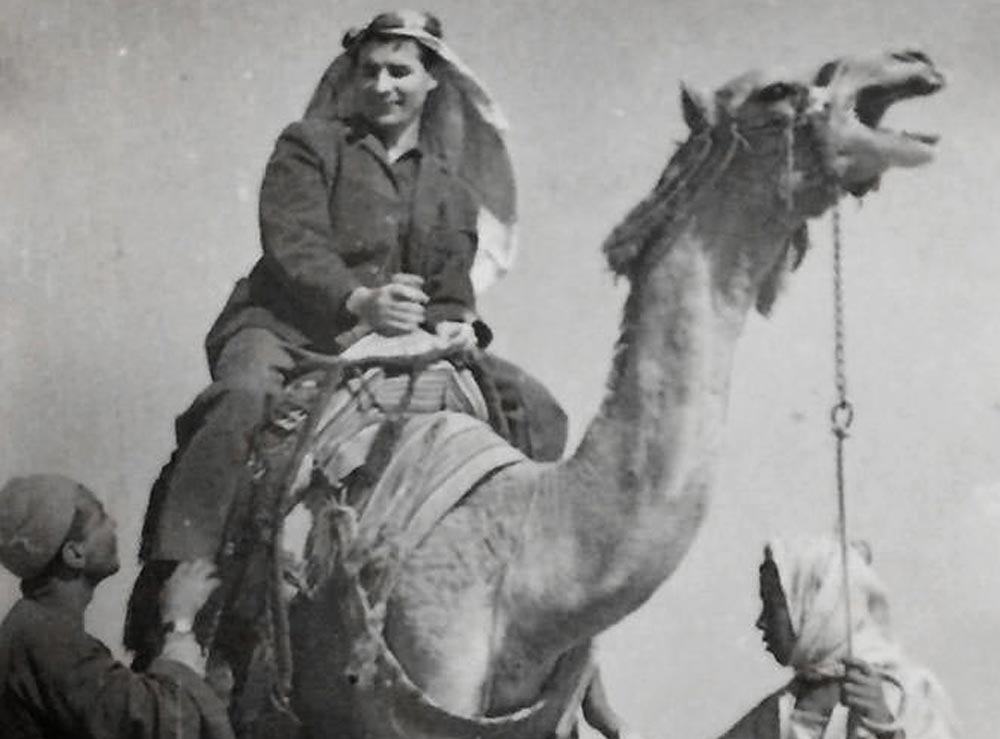 Ekrem was always a dear guest in Africa and was welcomed on his tours and travels. Here he is shown in Cairo, during a tour date.

If you happen to own some Ekrem's artwork in any form (graphics, paintings, illustrations, drawings…), please send us the photo(s) using the small form on the homepage where you can easily attach and send us images.